Many of us have been touched by cancer ... directly or indirectly.
When my late husband was going for his cancer radiotherapy treatments, we saw so many, many children with cancer waiting for their turn to go in to radiation therapy. I talked to more than one mother, and I remember one in particular who had the one 10 year old child with cancer and four other young ones at home, healthy and active. I was always amazed at the numbers of children waiting for cancer treatment. It just broke my heart to see so many young children suffering and fighting this beast of a disease.
God has gifted me ...
the least I can do is give some of that gift back to the children.
I will be listing charity auctions on eBay
starting with
a 100% charity auction
benefiting the Ronald McDonald House Houston.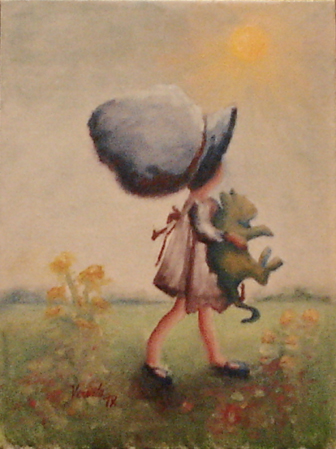 Please use the link below to view this auction. Just click on the link. There is no obligation to buy or bid. Once there if you do choose to bid on the painting, it will be much appreciated.
Holly and Cat
No Longer Available
When the auction is sold,
100% of the proceeds
will be donated to
the Ronald McDonald House Houston.
I will be donating my time and materials and the proceeds from the auction through MissionFish, an organization that works in conjunction with eBay to guarantee that charities receive the promised funds. The winning bidder of this auction will provide the $ but will be the recipient of an original oil painting by V. Bridges Hoyt. Even eBay is getting into the picture by donating the auction listing fees.
I hope that you will join me in contributing to this charity: Ronald McDonald House Houston.
100% Charity Auction: Holly and Cat
Auction starting bid: $19.99 -- No obligation to look.
No Reserve Price. The first bidder could possibly be the winner.
Auction end date: Sunday, May 8
Holly and Cat
VernitaTX
--
You can see a gallery list of all my current auctions at
search.ebay.com/vernitatx