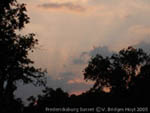 © V. Bridges Hoyt 2005
...Image available soon on greeting cards and posters.
We walked down the hill from The Yellow House. As we crossed the bridge over the creek, we paused to look at the sky. The image captured on my camera was one of a perfect Texas sunset.