Today was Norma Jean's birthday. The article at the New York Times reveals parts of her history I had not known, i.e. that she was born illegitimately and suffered child neglect. You may be able to read the NYT article without signing in; nonetheless it's an easy process to sign in to read it. Click on the blog title above to get there.
A few months ago, I painted a watercolor portrait study that seems appropriate to post as a birthday remembrance.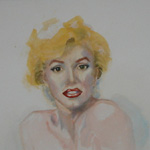 Happy Birthday, Marilyn Monroe!
This painting is only a study and is done solely for my personal use. It is not for sale and will not be repeated or published. I show it here only as an example of my watercolor portrait artwork.
~~~
This also happens to be the date of Helen Keller's death. The NY Times article on Helen Keller can be found at:
Helen Keller, 87, Dies
~~~
The two women share this date. One started and the other ended on June 1. It's really sort of odd, but in a way Marilyn and Helen have another common bond. Both of these women became public names. Different means to different ends, but they each had a strong resolve. Marilyn would fall by the wayside and die young at 36. Helen beat all the odds and lived to be 87.