["One in the Sun" now resides in the home of Lilly Bunyard.]
Colored Pencil 4"x4", matted and framed to 8"x10"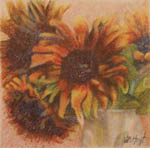 My sunflower series starts with this small rendering (pendering) done in pure colored pencil with no watercolor or solvents added. It's only colored pencil. This is of the three (and a half) sunflowers on the left side of the photo shown in the previous post. It is not meant to be photo realism but rather my impression of the sunflowers.
It's a little hard to get a good digital photo or scan of pure colored pencil. I will have to practice that process. Most likely I will just paint in the mixed media of watercolor and colored pencil since I like the look of those two together. Also, using the watercolor allows me to hold a brush in my hand. There is something about a brush in my hand ...
---
My "vernitatx" charity auctions will begin again in September with a new Auction Preview Site where you'll be able to see the images without going to eBay. For anyone who wants to bid on a painting, the preview page will have a hot link to the eBay auction.
Thank you, Stella, for letting me piggyback on a good idea.