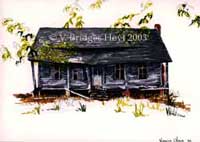 Old House
Straight out of my past, This Old House is available again as a print through
ArtByUs Auctions
(real art by real artists). This is a print of an original sketch done with watercolor marker. This old house sat deep in the heart of the Davy Crockett National Forest in Houston County, Texas until it all but fell down. Typical of the early farmhouse or Acadian style home found in the South, this rendering evokes memories of years gone by.
The Old House looks classy when matted and framed to a larger size.
8"x10" giclee image on glossy paper
Bid starts at $9.99.
10% of final sale benefits
P.E.A.R.L. PALMETTO EQUINE AWARENESS AND RESCUE
View auction details here
This Old House
.