In the past five years, I have been brought back time and again to the Book of Ecclesiastes, specifically to Ecclesiastes 3:1-8. A Time for Everything.
There is a time for everything,
a season for every activity under heaven.
A time to be born and a time to die.
A time to plant and a time to harvest.
A time to kill and a time to heal.
A time to tear down and a time to rebuild.
A time to cry and a time to laugh.
A time to grieve and a time to dance.
A time to scatter stones and a time to gather stones.
A time to embrace and a time to turn away.
A time to search and a time to lose.
A time to keep and a time to throw away.
A time to tear and a time to mend.
A time to be quiet and a time to speak up.
A time to love and a time to hate.
A time for war and a time for peace.
Written in the voice of King Solomon, the most famous person of his day (about 935 B.C.) and known as the wisest man who ever lived and also possibly the richest, he asked himself, "How would I portray life to others?" To get our attention, his initial reply was, "Meaningless! Empty, hollow, without significance." Solomon had it all, but he didn't realize until the end of his life that he had made a real mess of it all. He had lived his life as one grand experiment, and in the end he realized the relationships, business ventures, 'the music, the gardens, the arts--what was the point if they could not be seen as a gift from the eternal God who loves us?' (paraphrased from Guideposts Touchpoint Bible: New Living Translation)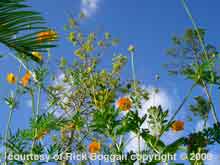 In Ecclesiastes 3:9-15, Solomon continues:
What do people really get for all their hard work? I have thought about this in connection with the various kinds of work God has given people to do. God has made everything beautiful for its own time. He has planted eternity in the human heart, but even so, people cannot see the whole scope of God's work from beginning to end. So I concluded that there is nothing better for people than to be happy and to enjoy themselves as long as they can. And people should eat and drink and enjoy the fruits of their labor, for these are gifts from God.

And I know that whatever God does is final. Nothing can be added to it or taken from it. God's purpose in this is that people should fear him. Whatever exists today and whatever will exist in the future has already existed in the past. For God calls each event back in its turn.
I will keep these words in mind as I start my day.