Six years ago when my husband was fighting cancer, I saw multitudes of children of all ages waiting for radiation therapy at The Methodist Hospital in the Texas Medical Center of Houston. I talked to one divorced mother who was juggling her cancer-stricken child's needs with the needs of her four other healthy children not to mention their financial needs. This little boy had brain cancer and was being zapped with radiation as an attempt to control or eradicate the cancer. He had a happy and outgoing personality and appeared to take it all in stride, not with the worry and concern and reality that his mother exhibited. Since those days in the cancer treatment waiting rooms, I have searched for a way to help in some small way. When I researched charities at
Charity Navigator
, the national organization
The Sunshine Kids Foundation
was rated high on the list with four stars and was reported to spend a whopping 86.9% of funding on Program Expenses and only 4.5% on Administrative. Last week I brought my painting TRINITY out of the archives and set a sale price on it with 20% of sale committed to The Sunshine Kids. Yesterday, it sold. A contribution will be made to The Sunshine Kids Foundation this week.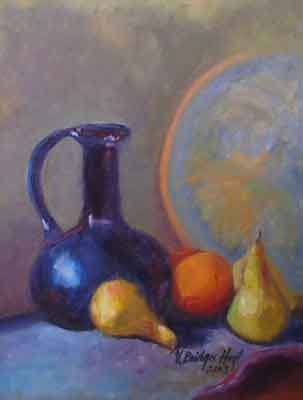 I paint to leave a bit of myself with others, and I have found that painting is a way I can help those who can't help themselves, animals and children, by giving a percentage of each painting sale to a reputable charity. That is why you will find my paintings listed sometimes for an animal rescue charity and sometimes for a charity that helps children with cancer. Neither group is able to help themselves, yet animals and children accept their plight in life without question. I have found that animals and children know how to "live in this day." The painting above, REFLECTIONS IN BLUE, will also benefit The Sunshine Kids Foundation. Read more detail at
Texas Sauce Studio.
All donations are made in honor of the purchaser of the painting and an official notification will be sent to the purchaser when the donation has been received by The Sunshine Kids Foundation. Together we can make a difference in helping those who can not help themselves.