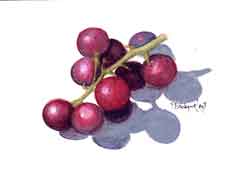 Grapes
mixed media painting on 5"x7" Fabriano 140# hp
a study in realism by V. Bridges Hoyt 2006
10% of sale benefits Malibu Pet Companions in California
The "Grapes" piece was based on a study with Janie Gildow, colored pencil artist. A related piece "Cherries" is to be listed soon.
Available through eBay, the listing
starts on September 20 at 6:00 pm.
The painting will be available for seven days. View a larger image and additional details by clicking on the image link above.