I gave this painting to my mom a couple of years ago. It still hangs on her dining room wall.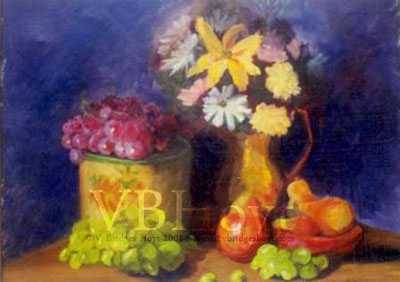 I see now that Mom encouraged me to paint. Memories of childhood have flooded back to me over the past 11 months ... memories of painting paint-by-number kits side-by-side with Mom, memories of her teaching me to sew, a satin Valentine heart she made, memories of oil classes, painting with watercolors sprawled on the floor over summer vacation, all encouraged by her.
One week before my mother breathed her last breath last December 29, I posted this on blogger:
(from
The Four Agreements
by Don Miguel Ruiz)
The best way to say, "I love you, God," is to live your life doing your best. The best way to say, "Thank you, God," is by letting go of the past and living in the present moment, right here and now. Whatever life takes away from you, let it go.... You are alive, so take your life and enjoy it.... Say no when you want to say no, and yes when you want to say yes. You have the right to be you.... You express your own divinity by being alive and by loving yourself and others. It is an expression of God to say, "Hey, I love you."
I knew not that she was about to die. None of us did. I had noticed she was losing weight, and she dropped hints that she was not well but never clearly said so that I could hear her. It's easy to let the stress of daily life overwhelm and close one's eyes to a difficult reality. If I could have seen with open eyes ... but "what if" never changes things.
Looking back at Ruiz's quote that I posted last December 22, exactly one week before she would die, the words seem almost to come from her. Who knows why I chose to blog those words last December ... and who knows why it took me eleven months to go back and read them again. They are good words--a Godly message. Words that will carry me forward like her saved letter I came across last week. It ended with a P.S. "Take care of YOU."
Last December's blog continued:
(from the New Living Translation, Touchpoint Bible)
I John 4:7-12 -- Dear friends, let us continue to love one another, for love comes from God.... God is love.
It sounds like her talking. It's what she wanted.