In January I painted Yoshi and my dad's Beefmaster (a breed) bull calf. There were other paintings too, but these two represented pieces of my life. 
© Vernita Bridges Hoyt 2008
Although I intended to keep the painting of Yoshi, someone came along who wanted to purchase and deserved to have the painting. I sold Yoshi thinking I would paint another quickly with a different pose, but here it is December already without a replacement painting of Yoshi. This will go on my priority list for 2009 or maybe sooner.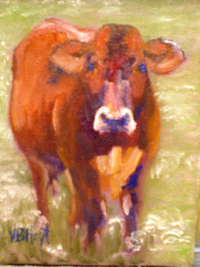 © 2008 Vernita Bridges-Hoyt
I gave the Beefmaster Bull Calf to a very close and dear friend of my mom's last. It's amazing how fast a year can fly by. It's time to paint more cows and farm scenes again, too.
"Painting the Sauce of Texas"
animals • people • places • wildflowers