A couple of highlights from February:
The first grandson discovered Webkinz and insisted that I get one for myself so we could "communicate" online through the
webkinz.com
site for children. I selected a little pink piglet for myself which I believe was the inspiration for future pig paintings. The sketch below is of Piglet resting atop the bed comforter. This sketch will stay in my sketchbook. After all, it was inspired by the grandson.
Inspired by my fellow Artists Helping Animals, I painted a Dalmatian puppy in oils and called it "Puppy Breath." Everybody who came into the studio loved it, and I was very pleased with the result, too. This painting was purchased by a collector in Massachusetts. It was a win-win all the way around. I felt good having the painting purchased by a Dalmatian owner who made possible the donation to Willing Hearts Dalmatian Rescue.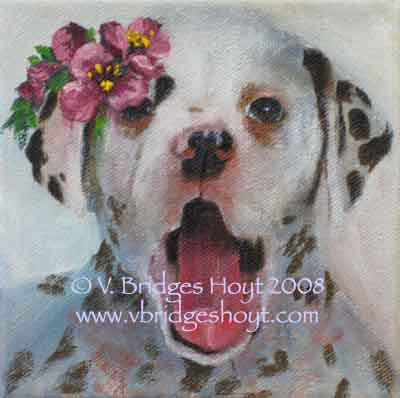 All images © 2008 Vernita Bridges-Hoyt
"Painting the Sauce of Texas"
animals • people • places • wildflowers
Today's Blessing:

 Today is a beautiful sunny day with temps hovering around 70 degrees. My son entered a piece in the Bering & James "box art" charity art exhibit, and his was one of the first to sell.  All proceeds from sales will go to DePelchin Children's Center.
..........
See new daily paintings
here.