L

IFE.   When in the midst of a life transition, it helps to change one's rituals. Changing the way we approach our day, the time we arise, the first thing we do in the morning or the last thing we do before going to bed can make a difference in our thought processes. It can be a great help to change the order of our days. Tradition says it takes 21 days to create a new habit ... the same for new rituals.
In her book
Transitions,
Julia Cameron wrote that a ritual can be as humble as the weekly writing of postcards to friends, lighting a candle for meals, listing gratitudes at bedtime, or walking the dog. We can each think of interests and activities to make into rituals in our lives. Rituals become the stepping stones through our days. They offer gentle structure in time of flux. 
Today's Blessing:

 Time with my 93-year old dad who is one of few surviving World War II veterans. He was a Navy man and a SeaBee (Construction Battalion). I am so glad I had a few years to listen to his war stories while talking was easier for him.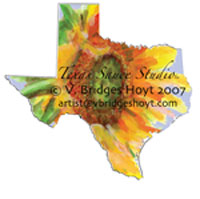 "Painting the Sauce of Texas"
animals • flowers • people • places
~~~