"The Beefmaster" watercolor painting below was one of my earlier cow paintings.
Texas Beefmaster Breed
watercolor on 12x9 inch 140# Arches paper
After Mom's death in December 2005, I would ride out through the pasture with my 90 year old father (now 95) to check on his cattle. Dad would drive the Ford Explorer over pastureland, and I would take pictures of cattle from the passenger's seat. "The Beefmaster" was the first painting from our rides that continued over the next five years with him driving. He has laid down his car keys now.
The original painting is in my personal art collection but the image is available as a
giclee print
, and I have only two prints remaining.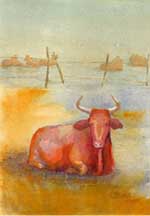 "The Beefmaster" print — $35.00 includes 10x8 inch giclee print and 14x11 inch double mat and backer board, ready to frame
. This fine art print is so close to the original watercolor painting, you can hardly see the difference. The 10x8 inch image is printed on professional artist grade watercolor paper. The print comes matted with a backer board and is wrapped in a clear protective acetate for safe shipping. Shipping cost is included in the price, and you can use the PayPal button provided below for easy payment. If you prefer to purchase with a personal check, please
click here.
The second print is on the same paper but is shipped with no mat or backer board — price $19.95
includes free shipping.
Be sure to include your shipping address whichever form of payment you choose to use.
-- See other available paintings at my website.
http://www.vbridgeshoyt.com