ART.
Here chick, chick, chick, chick.... After painting this mother hen with her chicks, I couldn't help but think of the fairy tale "The Little Red Hen" whose brood around her wanted to partake of the food she cooked but never wanted to help with anything when asked to help.
LIFE.
Daydreaming is said to enhance creativity. If that's the case, I must be one of the most creative artists around. When I was a child, Mother was constantly on me to stop daydreaming and get busy doing something. She just didn't know how my little mind was working busily. June was her birthday month, and I always think of her this whole month long ... just daydreaming.
Link to the article on daydreaming:
Today's Blessing:

Sunny days and summertime are here to stay. Life is good.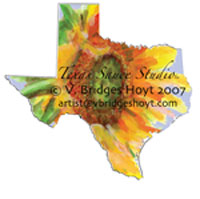 "Painting the Sauce of Texas"
animals • flowers • people • places