See finished painting in May 12 post above.
May 11.  
Painting progress was slow last week while I took a few days off to spend some time with family. I have moved to the foreground to add detail to the Texas bluebonnets. Now that the first layers of paint are dry to the touch, I will work my way through the detail of this painting.  I will post the final painting here as well as to the Art Helping Animals gallery blog and will name the charity at that time. To view a larger image, just click on the Dalmatian.
April 30.   

I've added more paint to the Dalmatian painting-- background trees and sky, the beginnings of Texas bluebonnets in shades of purple and blue, and spots on Jesse. This is oil on 12"x16" stretched linen. If I have a good painting session on Friday, I'll be able to post the final version on Saturday. 
This is my third recent painting on linen. I like it so much that I'll be using Belgian linen frequently for future paintings.
April 29.   
My current

Art Helping Animals

work-in-progress is this Dalmatian landscape with a lot of creative development yet to happen. This image shows only the first layer of local color with a thinned oil paint. Next I'll start brushing strokes of thicker paint to build the illusion of 3-D perspective on the stretched linen canvas. Click on the image to see enlarged detail.
You'll see more of this in two or three days. I hope to post the finished painting on Friday or Saturday.  A portion of the proceeds on this one will help homeless Dalmatians. 
Thanks so much to Emily for providing inspiration for this painting of Jesse.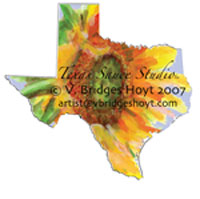 "Painting the Sauce of Texas"
animals • flowers • people • places