For the silent auction, I have donated three giclee prints (back row, left to right)--
Dalmatian Garden Party
,
Chef Dachshund (framed), 

P

lein Aire Painter Doxie

, and (front row, left) three mugs featuring my

Dachshund in Hat Trio

:

Chef

,

Painter

and

Cowboy

. To be given away FREE, I've included 200 note cards to be inserted into 200 goodie bags with lots of other good stuff.
 So
MARK YOUR CALENDARS--May 16
, and come on out to
The Woodlands, Texas
on Saturday, May 16. You can get directions from 
The Woodlands Dog Park Club
web site. 
While you're there, browse through the site to see all the good ways the Club is helping homeless pets.
Today's Blessing:

 I can still walk after attending my grandson's 5th grade prom dance and dancing Friday night away with an 11 year old. It was so much fun, but wow! Do I feel it!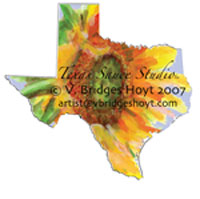 "Painting the Sauce of Texas"
animals • flowers • people • places
Visit my official website