ART.  The newborn raccoon, a work in progress. I'll post the finished version in a few days. This 9x12 oil painting will be listed to help Friends of Texas Wildlife in Magnolia, Texas. They are rehabbing orphaned wildlife and then releasing them back into the wild and need all the funding help they can get. To see their website or make a donation, click here.  To reserve this painting, email me -- artist@vbridgeshoyt.com
Today's Blessing:

 Grandson's cat surprised us with kittens but thankfully stopped at three! She is solid black and mated with a solid white tom to produce three beautiful charcoal gray kittens. They'll be up for adoption in a few weeks.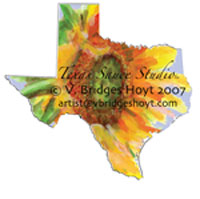 "Painting the Sauce of Texas"
animals • flowers • people • places