A

RT.  
With oil paints, it is easy and desirable to keep two or three paintings in progress at any one time.  While one canvas dries, I switch over and work on another one. When the second one needs to dry for a day or two, I switch over to paint on the third canvas. Three is about right. By the time I'm finished with an application of paint on the third canvas, the first one is dry enough to receive another layer of paint. By nature, my disposition has always been one to explore and start new projects.  This suits me.  Currently, I am painting two commissioned works in progress, a Dachshund painting and a landscape, and I have started a painting of the newborn raccoon that is in rehab at Friends of Texas Wildlife.  I will show the raccoon as it progresses and the commissioned works after they are completed.
L

IFE.  
Last week my 11-year old grandson and I visited a wildlife rescue organization in the forest not too far north of my neighborhood ... oh, maybe it's half an hour's drive to get there. There we saw three baby raccoons and a newborn who had all been lost from their mother. The organization 
Friends of Texas Wildlife
 is rehabbing the young raccoons to release into the wild when they are the right age to survive on their own. They were so fun to watch as they bottle fed. My grandson, whose goal is to become a vet some day, really enjoyed the experience and learned so much. 
In past years, I have had raccoons in the attic of my house. They would always come back year after year no matter how many siding boards were nailed down securely. The little rascals have the intelligence of a 5-year old human child, and they have the dexterity in their hands (front paws) to go with it. A 5-year old child can get into just about anything he or she wants to get into ... and so can a raccoon.  

While at the wildlife rescue, I learned a few things myself, such as to buy a bottle of fox urine and pour it over an old tennis ball and place the soaked tennis ball in the attic with the raccoons. The mother will think that a predator (fox) is loose in the attic, and she will pick up her babies and move to another location to escape the fox. Wish I had known this a few years ago, but you can be sure I'll remember it for the next raccoon who thinks I am running a hotel in my attic.

Please visit the
Friends of Texas Wildlife
web site
for lots more information about displaced wildlife in The Woodlands / Magnolia area. After you browse through the site, go back to the home page and if you feel the urge to donate, there is a PayPal button way at the bottom of that first page. Or you can mail your donation to the address shown there. It's a worthy cause. 
Today's Blessing:

 New friends.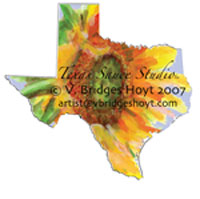 "Painting the Sauce of Texas"
animals • flowers • people • places