L

IFE.  Julia Cameron, author of The Artist's Way, has written a book of

Prayers and Declarations for a Changing Life

titled simply TRANSITIONS. When I wake up in those wee early hours of the morning and can't sleep, I grab a book off the nightstand. TRANSITIONS was the book this morning, and this was the reading.
T

he door to the future may stick when we try to open it. Not all transitions are easy or graceful. Sometimes our past is done before our future seems quite ready. We are caught in the corridor of in between, a limbo that feels awkward and uncomfortable. At times like these we must practice the art of containment. Soon enough the future will unfold, the door will swing open and the way be clear. In the meanwhile, we can consider the distance we have come already, the lessons we have learned and the chapters closed. By pausing to appreciate our growth, we find ourselves more restful than restless. The wheel will turn and find us ready.
On examination of this passage in relation to my life, I recognize that I have not been reflective or appreciative of my own growth in this lifetime. It is so easy to overlook where I was last year or two years or five years ago. More times than not, when I open myself to reading in the deep of the night, I glean a message seemingly meant just for me. It may speak to some of you, too.
Today's Blessing:

 Insomnia provides good quiet time for meditation and prayer.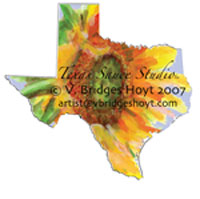 "Painting the Sauce of Texas"
animals • flowers • people • places