L
IFE. When in the midst of a life transition, it helps to change one's rituals.
Since Dad came to my house last Saturday, January 21, I have changed my studio time to sketchbook time. I will need to figure out his schedule and change my painting and blogging rituals to fit. Here is the first freehand sketch from my journal. Thor is a handy model.
Life Lesson: Be flexible but maintain my focus.
From the Sketchbook Journal of Vernita BridgesHoyt
Click on image to view detail.
January 24, 2012—Thor snuggles with me every morning until his hunger overtakes his need for companionship. Sketches of Thor must be quick because he repositions himself as soon as he gets a whiff of the ink coming from my pen. When I look at this sketch I am amazed to see what a large dog he has become. Thor is allowed to snuggle with me and the crocheted afghan in our early morning ritual, a special time for us.
Thor is most attentive to Dad, frequently checking to see that Dad is safe. Dad likes Thor and pets him all through the day.
Today's Blessing:
A large tree fell on top of Gina's car this morning while she was driving. Although the car was totaled and a limb or two punctured the door and windshield, I give thanks to God that Gina didn't get a scratch. Gina is my son's girlfriend.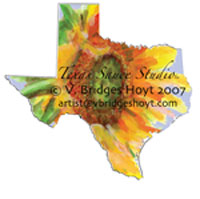 "Painting the Sauce of Texas"
animals • flowers • people • places