I am having so much fun designing holiday cards. Thank you, Tanya, for your encouragement along those lines. The card below will be available on Thanksgiving, November 27, and features five of my dog paintings completed in the past year. Up top, you'll see "
Santa Baby" Dachshund
on the green ornament. Continuing in a clockwise rotation, you see "
Puppy Breath" Dalmatian
,
Jake "You are the Apple of My Eye" Beagle
, "
Yoshi" Boxer
, and
Border Collie Brooke
"Up Close and Personal." 
See additional designs by clicking on the card image below. There is no text on the front image and no border around the original greeting card. If you see a border, it is only to highlight the link to the web page.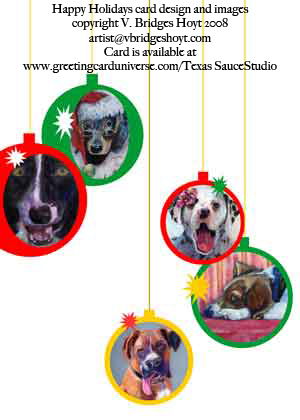 © 2008 Vernita Bridges-Hoyt
"Painting the Sauce of Texas"
animals • people • places • wildflowers
See my greeting card designs at
P.S.
Linda, thanks so much for the Thanksgiving animated card. My favorite was the Irish turkey. 
Jean, I want to send you the pig book. Please email me your address again, and don't worry about the shipping. Consider it my Christmas gift to you.
Today's Blessing:

 My children.
..........
Purchase daily paintings
here.