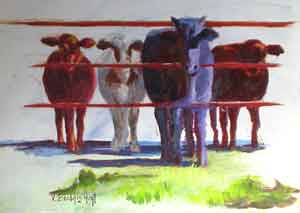 Original Painting Sold
copyright Vernita Bridges Hoyt
The Purple Cow
This original oil painting is in a private collection near Austin, Texas. Painted from a photo I took at Dad's barn, I used a bit of artistic license and painted one of the calves purple. The image was used on my 2005 Christmas cards with a verse of "Away in a Manger." Not the traditional red and green, these are unique. The Christmas cards are available directly from me. Send a unique Purple Cow greeting this year. Inquire
here
.
Inquire early!
Holiday cards available:
The Purple Cow "Away in a Manger" (this page)
Use wisely what you have been given and you will be given more.
MATTHEW 25:29
As a child, I was reprimanded for daydreaming. Today my daydreams morph into paintings.
V. Bridges Hoyt — painting the sauce of Texas™.
View my Texas Impressionist Oil Paintings. Subscribe to my blog e-letter in the top sidebar at Texas Sauce Art Life, and you will be able to reply directly. I do not share your email address.