Invest in Collectible Artworks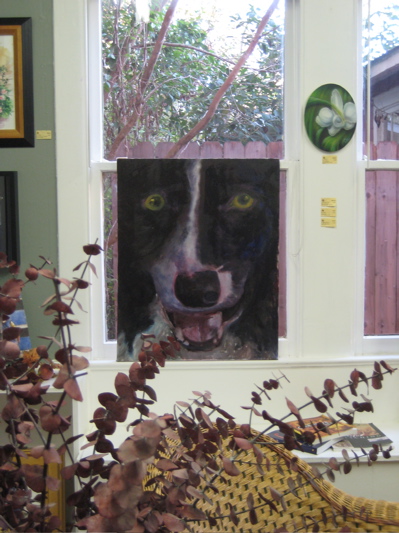 © 2008 Vernita Bridges-Hoyt
"Up Close and Personal"

 24"x30" oil on canvas, unframed
The Border Collie painting above is one of my larger paintings. I show it in the context of the studio window so you get a clearer idea of the painting size. This one is offered unframed. If you have questions about purchase options or want a frame quote, click here to
email me
. 
~
"Twisted Roots"

 8"x10" waterbase on oval canvas, unframed
The small oval flower painting you see hanging to the upper right is an airbrushed piece on canvas painted by published artist Sean "Ozz" Oliver. This beautiful little painting is 8x10 inches in size and is offered at $250. Sean "Ozz" is well-known nationally for his airbrush work on motorcycles, pickup trucks, cars, mailboxes and more. Sean rarely paints on canvas, so this piece is a sweet collectible. Please
email Texas Sauce Studio
for availability and cost of shipping or
click here to see detail
 or purchase securely through a
PayPal button
.
~

Today's Blessing:

 A good night's sleep.
..........
See more daily paintings
here.