ART. I met this little girl, a newborn raccoon, at Friends of Texas Wildlife rescue organization located back of The Woodlands near Magnolia, Texas. She had been found crawling on a concrete driveway, mother nowhere to be found, and she was hungry. She was brought to

Friends

for care and rehab until old enough for release back into the wild. It was my first time to be close to a newborn raccoon, and she was teeny enough to be held in a woman's hand with her little head peeking through between two fingers and her foot extended down by the heel of the palm. Really small ... and so CUTE! I learned a few things, such as ... raccoons are members of the cat family ... an adult raccoon's brain is equivalent to the brain of a 5-year old human child (that's why they get into everything) ... and a raccoon family can be removed without harm from an attic by tossing a tennis ball that has been soaked in fox urine (bought in a bottle from Academy Sporting Goods stores) into the attic, wherein very quickly the mother raccoon will pick up her babies and leave because she thinks there is a predator (fox) in the attic.
Today's Blessing:
Enjoying my upstairs studio which feels almost like a treehouse with birds singing melodiously outside the studio window.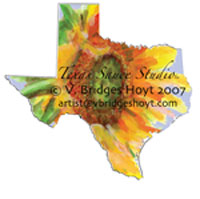 "Painting the Sauce of Texas"
animals • flowers • people • places